After releasing a teaser through arcane codes for 2PM's comeback, 2PM finally released last code. This code was given the title of 'FINAL CODE'. An image is uploaded via JYP's official Twitter account (@ JYPnation), Monday (04/22/2013).
In the picture in the form of cream-colored boxes and the brown, there are 45 lists of words or code on the right. The longer, the code more difficult to solve. JYP Entertainment is very creative I guess. After 2 years of waiting for the comeback of 2PM, JYP deliberately make HOTTEST increasingly curious about the comeback of 2PM, 2PM so the anticipated comeback.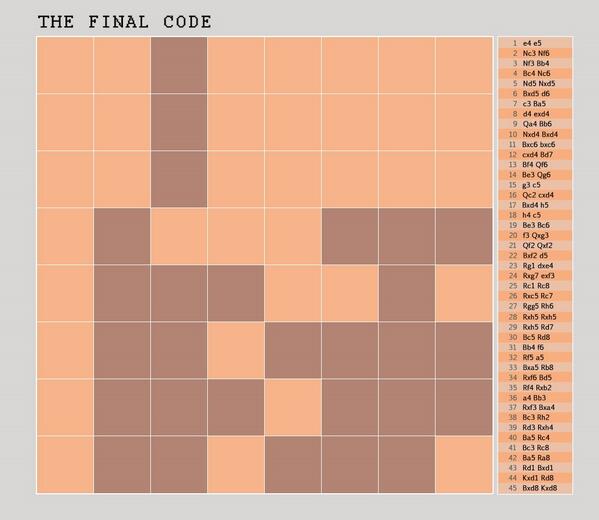 Let's take a look at the discussion of code based on the HOTTEST.
According fans picture was meant as a game of chess. If the 45 codes are put in motion a game of chess, the final results showed only two remaining chess pieces and both are kings.
The second position is called the king of stalemate or series, no one wins or loses. While connected to the code in the previous teaser, some fans also defines two black kings are kings and kings were interpreted as a good white (white) and evil (black).
Previously, 2PM has released trailer, Code #1, Code #2, and Code #3.
Source : HOTTEST(S)
PLEASE ANTICIPATE IT !!! ><
warm hug -Sheli-